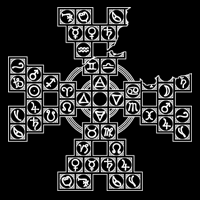 Hello. This is the first Evening Pilgrim blog post.
The image pictured at right offers a pattern of symbols representing ideas from a book by Israel Regardie titled, "A Practical Guide to Geomantic Divination." Mr. Regardie was an enthusiast of mystic traditions, and the word "geomantic" refers to the Earth.
When engaged in the form of divination Mr. Regardie describes, a person seeking insight randomly scratches the earth with a stick while considering a question. Then, by grouping the scratch marks into odd and even sets, symbols in the book are referenced. Each symbol corresponds to ideas that can be interpreted as suggestions.
In the book the symbols are presented under four primary headings: Earth, Air, Fire and Water. The four triangular symbols nearest the center of the design correspond to those primary elements. Moving further from the center, related astrological symbols – four for each primary element – are presented in sets of two. Then come four alchemical symbols, and finally at the outer edge of each emanation can be found four daimonic signatures.
Actually, some of the symbols and signatures described in the book are not presented. The reason for this is that the edition of the book I read appears to contain a typo or two, or so it seemed to me when I took a step back and looked at the overall system that was described. And I didn't feel enough material was provided in the text to infer with confidence what the "correct" information should be. So rather than pass along a possibly muddled system, two of the emanations in the upper right quadrant of the image are presented "broken off."
I've tried to suggest some ideas from physics in the design. Think "big bang" with the center of the image representing a nothingness from which everything else emerges. Complexity increases with the distance from the source, until personalities begin to emerge, represented by the daimonic signatures. Some signatures appear more than once.
Perhaps if another layer or two were added at the outside edge of each emanation there would be enough similarity between two edges that the emanations could be twisted round so they meet and blend together. The resulting formation might resemble a ribbon or figure eight, suggesting that the progression from nothingness to high complexity might eventually lead back to nothingness again. An idea I find restful.
Looking forward to reading any thoughts you care to share.