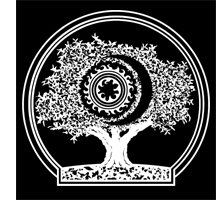 Through his poems, prose, plays, and the friendships he fostered, W.B.Yeats encouraged the recovery of aspects of Irish cultural that were fading away, including a considerable amount of mystical lore.
In 1890 he was admitted to a magical fraternity called the Hermetic Order of the Golden Dawn, and in 1899 he composed this poem:
THE SONG OF WANDERING AENGUS

I WENT out to the hazel wood,

Because a fire was in my head,

And cut and peeled a hazel wand,

And hooked a berry to a thread;

And when white moths were on the wing,

And moth-like stars were flickering out,

I dropped the berry in a stream

And caught a little silver trout.

When I had laid it on the floor

I went to blow the fire a-flame,

But something rustled on the floor,

And some one called me by my name:

It had become a glimmering girl

With apple blossom in her hair

Who called me by my name and ran

And faded through the brightening air.

Though I am old with wandering

Through hollow lands and hilly lands,

I will find out where she has gone,

And kiss her lips and take her hands;

And walk among long dappled grass,

And pluck till time and times are done

The silver apples of the moon,

The golden apples of the sun.
Nan Budinger, has written an illuminating paper, "Transformed by Love: An Alchemical and Psychological Reading of Yeats'
The Song of Wandering Aengus
" (published
here
for the first time), in which she makes a very convincing case for the idea that…
Yeats' crafted the poem itself to reflect the transformational arc of the alchemical process, and readers who undertake to unravel the poem's skein of interwoven hermetic images and contemplate their complex of meanings in the context of the alchemical tradition, are, like the narrator of the poem, likely to be transformed by the process.
I was totally charmed by her interpretation, and in response composed the graphic image offered above.