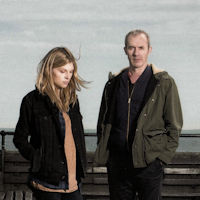 The big and small screens currently offer lots of opportunities to appreciate "good sociopaths". Perhaps because, lacking typical human responses, sociopaths appear driven by artificial programming – and at a cultural level there may be a growing intuition that we will soon be obliged to make room in our world for non-human intelligence. But whatever drives the fascination, "The Tunnel" introduces into the pantheon of highly entertaining fictional good sociopaths a marvelous young French woman named Elise. And part of her charm is her conscious decision to embrace habits of behavior that are beneficial to society. So much so that she has become a police sergeant in the precinct of Calais.
Her foil is an all too human English inspector named Karl whose blunders of love and embarrassed kindness slowly rub off on Elise. And she, so desirous of doing right no matter the cost to herself, awakens in Karl a fierceness that has enough momentum to push him over the edge into heroic action when an opportunity to "get it right this time" comes along.
There are two seasons. Best if you can binge watch. Much of it is full of villainous mayhem that provides the sometimes unlikely pretext for Karl and Elise to show each other how to become their better selves. I don't think it will spoil the fun if I mention that one of the amazing things the story brings into the light is the paradoxical idea that wholeness may not be possible, but loss can offer a glimpse of what wholeness might be like. The last few minutes of the last episode are some of the most beautiful, moving and memorable I've ever experienced.
---
A later thought (September 2018): This is, of course, just my two cents…there is a Season 3, but I strongly discouraging anyone from watching it. The creative team said all they had to say in the first two seasons. And sadly, to put it another way, they had nothing to say in the third season except nonsense. I wish I could un-see it.