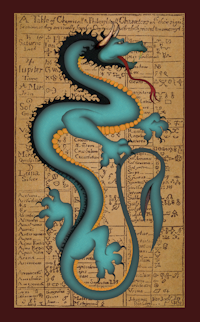 The 2022 Winter Solstice image at right is my final collaboration with the extraordinary woman I had the marvelous good fortune to share a life with since our high school days in the 1960s. Throughout the six-months during which the solstice image evolved, she guided the effort with insights and inspirations around color choices, perspective, figure proportion and posture… All the fine stuff. And she poked me, mercilessly, when necessary, to eliminate contradictions – anything her sensation instincts told her was not true to the overall unity of the composition. But dearest in my recollection is her delight when something we'd noodled over together began to manifest on the screen. That's what I will miss the most. Her delight.
The image background is adapted from Basil Valentine's 1671 "Table of Chemical & Philosophical Characters." We thought it would be fun to suggest a point along the arc of evolving human consciousness from which the foreground image might have spontaneously emerged. The context. And we tinkered with the parchment tone a lot, looking for a hue that seemed to push the bluish beasty upward.
The foreground image…the Sky Lizard…is a subject that has been writhing around pleasantly in my thoughts pretty much throughout my life. I wrote about some of my previous engagement with the creature in a 2012 blog post. I wonder as time passes whether I will be able to feel that with the rendering presented here I have fulfilled my responsibility to bring the unlikely being fully into the world.