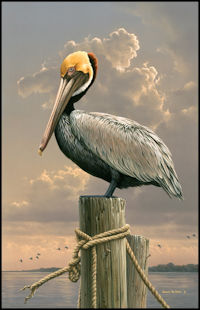 There is a piece of nautical hardware commonly called a pelican hook, or simply a pelican, because it bears something of a resemblance to the neck, head and bill of a pelican. I keep one near my desk at home where my eye falls upon it often. I think of it as an allegorical object in the sense that it implies things beyond the usual uses to which it is put.
I first came across the pelican in a little museum in the Town of Mendocino at the mouth of the Big River (no kidding, that's the river's name) – a place from which great red wood logs were loaded onto ships for transport to mills elsewhere on the coast. The logs were floated down the river to the shallows below the bluff upon which the town sits, but the mouth of the river is too rough and rocky for ships of any size to enter. So the way they got the logs onto the ships was to hoist them up onto the bluff, then slide them in slings dangling from pulleys down cables to ships anchored at a safe distance off shore. This worked great but things could get dicey if the sea suddenly kicked up.
As you might imagine if you could not release the cables quickly pieces of the ship could get torn off, or the loading structures on the bluff might get dragged over the cliff onto the rocks below. That's where the pelican came in. A length of cable was attached at one end of the pelican, and the loop at the end of another length of cable was held in the pelican's joint, with the pelican locked closed by the ring. If things turned grim it took little effort (even a child could do it) to slide the ring far enough back so the pelican could open and release the cable. I love that. It holds strong and true until it's time to let go, and then it does.
This post was composed for Marie F.
The magnificent painting above titled "Captiva Pelican" is by James Hautman.