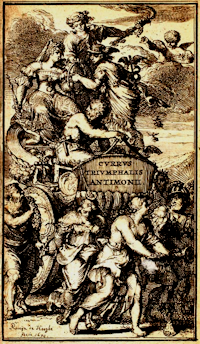 Before social media, isolation was the heavy tax levied on the luxury of minority views. The daring might attempt to reach out to others of like mind, but it was often risky and the cost was sometimes dear.
Nonetheless, as now, advances in information technology offered options. Starting about 560 years ago enterprising and determined Europeans employed movable type and published under assumed names to hide in plain sight, where only those looking for their own reflection might find each other.
In 1685 a book called Currus Triumphalis Antimonii (The Triumphal Chariot of Antimony), ostensibly the work of a 15th-century Benedictine monk, was published in Amsterdam. A colorful excerpt from the book's "Dedicatory Epistle" follows here.


ercury appeared to me in a dream, and brought me back from my devious courses to the one way. "Behold me clad not in the garb of the vulgar, but in the philosopher's mantle!" so he said, and straightway began to leap along the road in headlong bounds. Then, when he was tired, he sat down, and, turning to me, who had followed him in the spirit, bade me mark that he no longer possessed that youthful vigour with which he would at the first have overcome every obstacle, if he had not been allowed a free course.