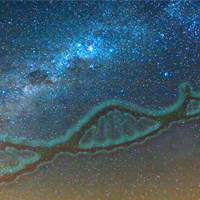 At an impressionable age in a hallway in the UCLA Department of Philosophy I saw a placard that read…
"We need never doubt those things about which no one is certain."
It's a thought that comes to mind often these days when I reflect upon horrible deeds, justified by mean-spirited assertions based upon preposterous sacred-cow assumptions.
In light of the extraordinary uncertainty of pretty much every aspect of existence, I wonder if I might do well to willfully doubt all the explanations humans have formulated for themselves in the past, and consider instead the possibility that each of us is wholly, completely and utterly responsible for what we do.
While I'm at it I should probably also consider putting aside the idea that someone, or some institution, or some creed, has the authority to "give me permission" to do hurtful things to others. Perhaps I might even try on the idea that every cruel act I perform is one that I, and only I, choose to perform.
These thoughts incline me to contribute to the great pool of creation myths the suggestion that a long time ago…I mean, a VERY long time ago…at a distance so far from Earth that all the stars in that remote region have been dark infinitely longer than they ever sparkled…engineers experimented with a mechanism that could configure various chemicals in such a way that animate forms emerged. This mechanism was so cleverly crafted that when placed in a large body of water it could, over time, automatically reconfigure itself to achieve ever-greater variety and complexity of animation.