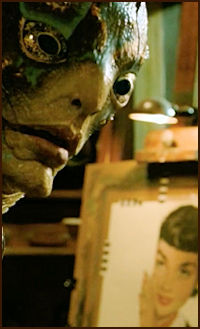 With "The Shape of Water" I think director Guillermo del Toro has composed a timely and marvelously entertaining illustration of the struggle between paranoia and empathy. He has artfully told an allegorical tale that shares with his audience important and complicated stuff much more effectively than reasoned discourse could ever manage.
For example, I think that in general a person in the grips of paranoia sees her or himself as alone in their understanding of their own ongoing personal jeopardy. On the other hand a person unencumbered by paranoia and capable of empathy accepts their own uniqueness as just the way it is…the uniqueness of others is simply some sort of paradoxical commonality. We're all the same – we're all different.
To a paranoid person anyone else that appears on their radar in any sort of stressful situation is perceived as a menacing something else, taking on an over-the-top monstrous aspect. And interaction with such loathsome beings, especially unwanted interaction, triggers fear. For paranoid people, the "frightening others", especially obviously different others, are particularly fear inducing if they are acting like, or being treated like, people. Seeing "those people" pretending they are not loathsome beings…treated as if they were not loathsome beings…is experienced by paranoid people as monsters maneuvering and conspiring to destroy them.